Learn from the real estate marketing pros about the easiest ways to get those legitimate reviews for your Google MyBusiness Account.
Asking people for favors can be a challenge. Some realtors would even argue that this is especially true when it comes to getting Google+ local reviews for your real estate business. However, there are ways to tackle this. Our real estate internet marketing pros will show you some of the easiest ways to get those legitimate reviews. A local business review, an essential real estate marketing tool, can have a huge impact on your reputation as it gives your business a competitive advantage in the cutthroat industry where thousands other realtors provide similar services.
What do your customers need to review?
The following are Google's review policies. The search engine giant is very strict on what constitutes a review and what does not. For example, it does not allow the reviewer to post contact information (i.e., phone number, email address etc) or post reviews under aliases. It is well advised to share these guidelines with the reviewer prior to completion so that Google does not later remove it.
Many people think that you need to have a Google+ account to write a review. That is not necessarily true. You simply need a Google account.  A Google account is a user name and password that people use to gain entry to Google applications like Docs, Google+, Sites, Maps and Search. These accounts do not have to end in "@gmail.com".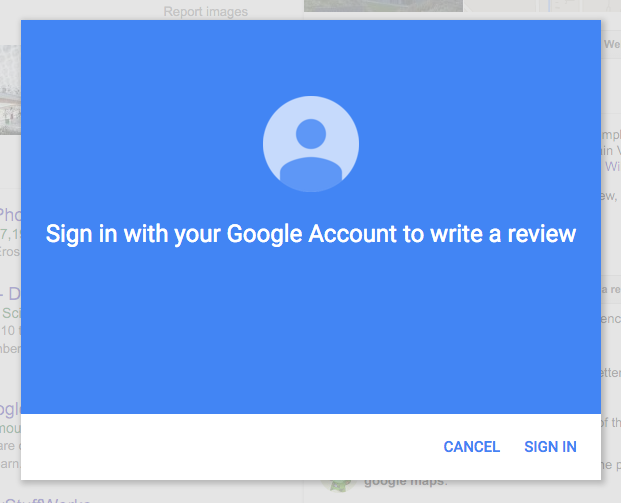 Image source: http://serptests.com/google-tests-new-sign-modal-leaving-business-review/
This new sign-in process makes it easier for customers to leave more reviews without having to access or create a Google+ or Gmail account.
How to Obtain Reviews for Your Google My Business Account
1. Do it right away
First thing's first, it is important to remember to be prompt with your requests. People are most likely to give you feedback within days or a week of the transaction. The longer you wait from the time of service to the time of request, the likelihood of getting a review falls. The best time to ask is when the customer is thanking you for a job well done or bringing you a present for helping them sell/buy a home.
2. Make it Easy on Them
Unless a customer has had a negative experience with you, they will not be looking for ways to leave a review about your business. That is why it is important to put direct links to your review profiles, including Google MyBusiness, such as in follow-up emails, newsletters, and your website. In doing so you are making it easier on customers by cutting the time it takes to review in half, which is important considering customers are always looking to do things in the least amount of time possible. 
3. Avoid Bribing
The majority of customers will review you for free. If you offer to pay your reviewers, your reputation may take a hit because it dampens the enthusiasm of these mavens. A review must speak from the heart. The adjectives used to describe you must be unique and creative. The majority of paid reviews are the opposite – they are generic, mundane, and unhelpful. They say nothing about the services being offered and how they compare to others being offered by the competition.
Take cold calling as the perfect example. What sells more: a pitch that was printed from the internet for the sales representative or a pitch that was custom written by the sales representative to tailor the customer(s)? Of course, the latter would sell more because it sounds less like the sales representative is reading a script they are using for all other customers.   
4. Add Relevant Call-to-Actions (CTAs) on your Real Estate Website
 This is another way of saying "it never hurts to ask." Many sites now have social media widgets or plugins that help display online reviews from external websites. If you cannot find one, you may wish to create an infographic or banner that will capture the attention of your customers instead. Place a clear and concise CTA next to the widget or banner to encourage customers to "Leave us a Review". Check out some examples of top performing real estate websites here: Click here for examples.
InCom Real Estate Marketing solutions can get your business Google plus reviews. Contact us today to find out how.
Did you enjoy this blog post? 
Reach out to one of our Online Marketing Specialists to learn more about how we can help you grow your real estate business online.