Do you ever wonder what people see when they access your website over mobile or tablets? Would you feel more confident knowing that whether prospects or clients visit your site from home or on the go, your professional website and brand will not be tarnished with poor display and lack of user-friendliness?
Responsive Web Designs "respond" to their environment. When a screen size is smaller or larger, the layout adapts to these changes and displays the design strategically to ensure that the user-friendly navigation is intact.
Why is being "responsive" so important?
"Day by day the number of devices, platforms, and browsers that need to work with your website grows. Responsive web design represents a fundamental shift in how we'll build websites for the decade to come."
Jeffrey Veen
Vice President of Product Design for Adobe
The way people access the internet everyday has changed drastically over the past 10 years. The public, your buyers, and your sellers are all searching online across various platforms and you want to be there at the door when they come knocking. Just like how you would never present yourself to prospects looking like a mess, you wouldn't want your website to be a mess either. In effect your website is an extension of you and your business. Your website should be arranged to greet people professionally however it is approached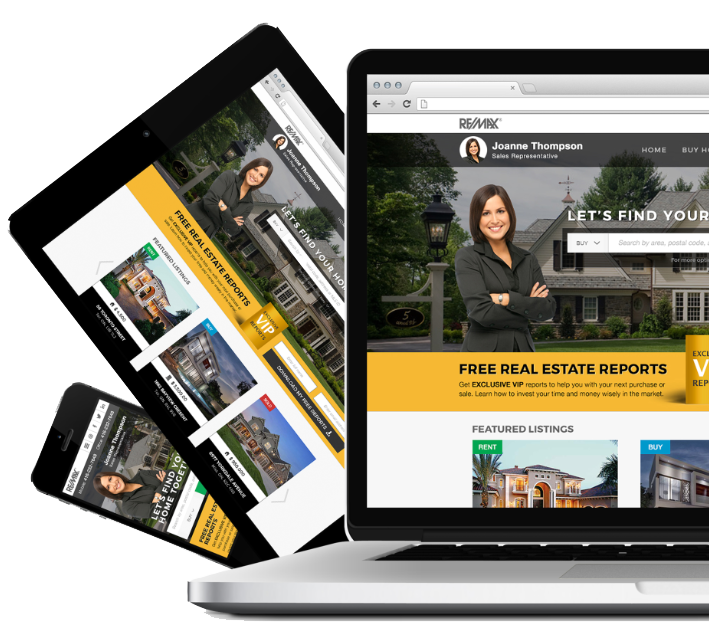 INCOM Web & e-Marketing Solutions takes the guessing work out of web design. You do not need to know coding or how responsive designs work. As a company focused on IT and offering the latest in real estate technology, important elements such as Responsive Web Design are at your fingertips.
If you currently have a personal real estate website with INCOM, swap in a Responsive design at any time through your back-office. If you do not have a real estate website with INCOM, it is time to switch to a website provider that prepares you for the future. At INCOM we focus on you, your success, and how you're perceived by others because nothing beats a professionally designed website when it comes to online real estate marketing.
View INCOM's Responsive Designs here.
See for yourself.
 

Adroit

 

Mint

 

Prosper

 

Focus

 

Billboard

 

Razor

 

Modern

 

Focus Partners

 

Urban

 

Skyscraper
Questions? Call us anytime at:
1 866 883 8951