Life as a real estate agent is always busy; going to meetings, open houses, contacting incoming leads and administrative duties - the list goes on. All these duties make it difficult to stay on top of your social media, website SEO and lead generation. 
Since having online presence in business is such a huge part of society today online buyers are becoming more and more prominent in the real estate industry. Therefore it is crucial for any real estate agent to properly use social media to market their businesses and listings. Facebook, Instagram,Twitter and LinkedIn make it easy for you to sign up, but managing them to get the right clientele is when it gets tricky. 
Here are some key tactics to optimize and manage your social media campaigns. 
Using Instagram - An easy and popular platform to get many eyes on a single listing. Instagram is more often used on mobile devices making it easier for users to scroll through on a day-to-day basis. This increases views, branding and even conversions at a faster rate that you can track in real time. When promoting real estate businesses on instagram there are a couple things that you should remember to do. 
High-Res Photos - if this is the first thing that a possible future client could see you want to make sure it is displaying your listing in the best way. Bringing in a professional photographer might be a good idea as it is very important to post beautiful images to get more views. Make sure to be posting at least once or twice a day. This is to keep users consistently engaged. If that is a little too much to handle, try for 3-4 times a week.
Video Clips - a video showcases a house in a fast yet effective way. Create  a short 15 second-clip of one of your listings visually gives users all the information they may need while keeping their attention span. 
Instagram Stories - if a post is too difficult to complete, make sure at the minimum you are posting a story at least once a day. Stories are easier to post as it can be related to the listing or anything related to your life as a realtor. As creepy as it sounds, people like to know what you're doing on a day-to-day basis. 
Facebook Page - A social media marketing strategy is not complete without updating and consistently using Facebook. When sharing content on Facebook, the number one rule to follow is to make sure that the content is directly related to the customers (or at least ¾ of it is) The rest of the content (left over ¼) should be used to provide business updates. These updates would be any new changes that are/have happened to your business. For example, adding a new partner, new brokerage, new websites etc. 
Twitter Promotion - Small businesses can greatly benefit from using twitter as it can boost realtor's exposure very fast. There are a few distinctive tactics that you should be trying to incorporate. 
Tweet Volume: To keep it simple, the more you tweet, the more exposure you will have the chance of achieving (this includes leads). Twitter is a great platform to broadcast things like moving tips, open house dates and staging tips. 
Business Connections: Real estate agents should use twitter to connect with locals, brands, influencers and other business. This makes for great opportunity for possible marketing and brand awareness from others. 
Hashtags: It might be tedious to say but hashtags are very important to incorporate. Users can search twitter by just hashtags so making sure you are incorporating the right ones is crucial in gaining retweets and likes.
LinkedIn - There is a simple, yet easy explanation as to why any realtor should be on LinkedIn and that is, it is the easiest way to establish a professional reputation. Real estate social media marketing is not complete without LinkedIn as it helps you gain exposure to banks, investors, and other businesses. 
Social media for realtors is a challenging thing to complete but we have a solution that can help when it comes to posting about your listings.
On every property listing there is an option to post to social media. This makes it easy for you to stay on top of your social media while increasing your website and SEO ranking.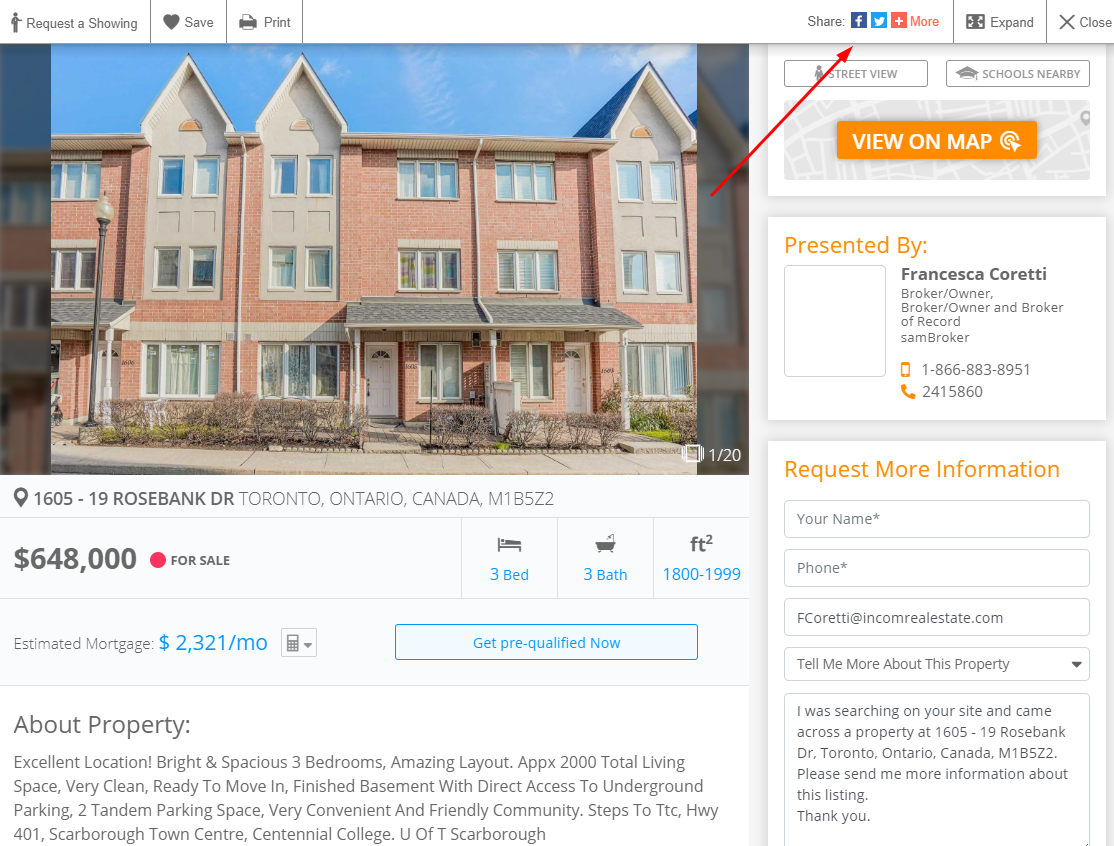 Still Not Convinced? Let the Numbers Do The Talking
When deciding on who your real estate website provider should be, there are a couple things you might want to keep in mind. Some companies will say and do everything to get you onboard with them but not prove their worth to you until you are stuck with them, but not iNCOM.  
Here we let the statistics do the talking and with 9500 satisfied clients on five different continents they are only saying good things. We also do not need to keep you under a contract which is why we offer a 30-day money back guarantee if you decide otherwise.  
If you are looking for a boost in traffic to your website, you can count on iNCOM to provide you with plenty of additional business at a reasonable cost. At iNCOM Web & e-Marketing Solutions, we are well-versed in keeping your business ahead of its competitors.
Contact us today to learn more.