Get ready for a major change! Google is at it once again and here's what to expect from their mobile-friendly update.
If Google ranking lies at the top of your priority list, April 21st, 2015 marked an important date in SEO history and you should know all about it! On the 21st of April this year, Google unveiled their new algorithm that has changed the way websites are ranked within Google. The nickname "Mobilegeddon" is a perfect depiction of this recent release that places mobile-friendly at the forefront of Search Engine Optimization. It is said that the change will take approximately 1 week to take effect and the countdown has already begun. This leaves only a few days to ensure that your website is mobile-friendly before it starts to drop rank in mobile searches, faster than our hearts each time the Toronto Raptors lose a playoff game.
What is the "Mobilegeddon" Google Algorithm Anyway?
Google is recognizing the extreme rise of global usage and mobile adoption. With the number of people using their mobile phones for searches, some even discarding the desktop platform altogether, this algorithm is working to ensure that users have a good experience searching via mobile. Once this algorithm comes into effect, when someone conducts a search over their smartphone, they are more likely to get mobile-friendly websites in their search results.
How Can I Ensure My Website Appears in Mobile-friendly Search Results?  
There are several factors that go into determining whether a website is mobile-friendly or not. Components that will be evaluated are:
The distance between links and buttons
Size of text for readability
Use of unplayable content like Flash
How can you tell if these elements are in order? Google provides a tool that will analyse your website and if your website is not mobile-friendly, provide reasons as to why that is. Use their Mobile-Friendly Test, available at www.google.com/webmasters/tools/mobile-friendly.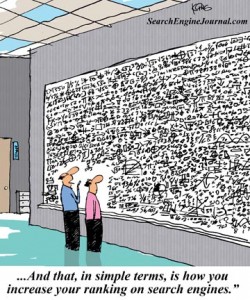 When you're searching for a website solution, remember to question if their sites are mobile-friendly. Website providers such as INCOM Web & e-Marketing Solutions make it simple for you by offering automatic mobile websites and responsive web designs in addition to a great platform designed for real estate professionals. If you are a real estate agent or run a real estate firm and understand the importance of SEO, banish any mobile-friendly concerns by choosing a website from INCOM Web & e-Marketing Solutions. Visit www.incomrealestate.com to see their mobile-friendly solutions.