Online advertising can be tricky but there is an easy yet effective way to keep in contact with your leads without being too pushy. Drip email campaigns boost contact and loyalty while increasing brand awareness and re-engaging unengaged clients. 
Email marketing is a crucial part of the real estate industry as not everyone is ready to buy or sell their home right away. Sending emails creates a lead nurturing funnel that will prep the client until they are ready to start the home buying process. In order to get the most out of a real estate drip email campaigns there are a couple key factors that you should follow in order to get the most response out of your automated email campaigns. 
Tip 1:  Emails Should Sound Personal Instead Of Genera

l
Whether they are an existing client, new lead or just starting out in a home search you want to make sure all the drip emails you set up are personal and to the point. Keep in short and sweet that way they are not reading for too long and they get all the information they might need. If the email being sent needs to include a large amount of text make sure there are enough bylines/secondary headlines so that the user has a place for their eye to rest. Too much text will hurt your emails as not everyone is going to read it. Lastly, using a name tag is one way to distinguish a general email from a personal email. Another important part of speaking directly is putting people in the center of your email. 
Tip 2: Use Eye Catching Pictures
Since attention span is shrinking, a great marketing strategy is to use distinct and palpable photos. Images immerses the user immediately into the topic, sets the mood, and helps to convey the essence of the text. Quality and aesthetic pictures can make or break an email campaign. Having a great photo will not distract from the email and will actually help sell the message. Real estate business can be tricky but as long as drip campaigns have an eye-catching photo they are bound to get an increase in clicks and engagement. 
Tip 3: Use Call to Actions
The extra spaces between text and white space can be used as a visual break or (and more importantly) it is exactly the place to add a call to action (CTAs). CTAs give readers an increased amount of options which means increased engagement with your brand and yourself as a realtor. Some great examples of copy to use for CTAs are: 
- "Sign Up"
- "Subscribe Now"
- "Try For Free"
- "Get Started"
- "Learn More"
- "Free Home Evaluation"
It is also okay to have multiple CTAs on a page, as long as they are placed properly and are different sizes. 

Tip 4: Don't Be Afraid Of Colour
Colour can be a difficult feature to work with. It can be used in different shapes or aspects of email but there are a couple easier ways to incorporate colour. The first is changing the background colour. This will make the email have a stronger impact. The second is using contrasting colours throughout the website. Contrasting colours create depth and allows for important text to stand out.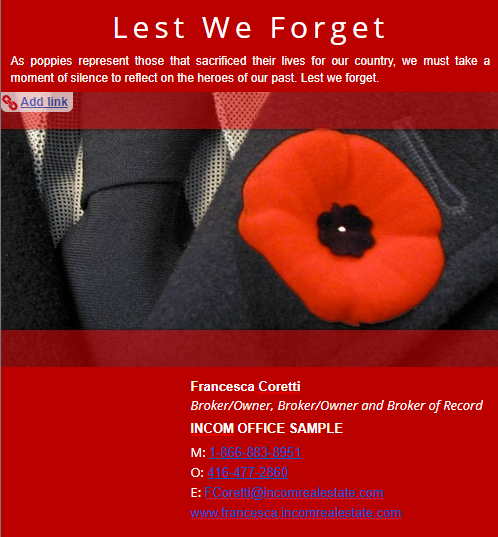 Still Not Convinced? Let the Numbers Do The Talking
When deciding on who your real estate website provider should be, there are a couple things you might want to keep in mind. Some companies will say and do everything to get you onboard with them but not prove their worth to you until you are stuck with them, but not iNCOM.  
Here we let the statistics do the talking and with 9500 satisfied clients on five different continents they are only saying good things. We also do not need to keep you under a contract which is why we offer a 30-day money back guarantee if you decide otherwise. 
If you are looking for a boost in traffic to your website, you can count on iNCOM to provide you with plenty of additional business at a reasonable cost. At iNCOM Web & e-Marketing Solutions, we are well-versed in keeping your business ahead of its competitors.
Contact us today to learn more.