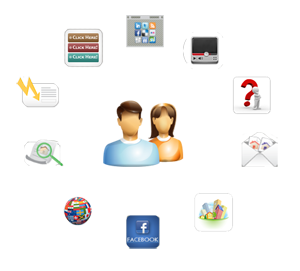 Showcase featured listings, display videos and enhance your user experience with your widget applications. Drag and drop engaging tools from your comprehensive toolbar of widget applications to any web page on your website. Add as many widgets you like and move them around the page as you please to encourage interaction with website visitors.
About Me
Let your website visitors know exactly who you are, what expertise you can offer, and the experience you have behind you by announcing it right on your home page. Your About Me widget will showcase your website bio as the first item of content people see. Use this tool to give them a reason to continue using your website for real estate listings, advice, news, and more.
Featured Listings
Don't let important listings camouflage into your extensive listing directory! Display the listings that you want in the spotlight with your Featured Listings widget. Configure this tool on any page to display rotating listings from your office listing directory, personal agent listings, all listings included within our IDX, listings by city, or even specific MLS® ID. This feature can be configured to display multiple listings at once or one listing at a time.
Quick Buttons
The description is in the name. Quick Buttons display your Free Home Evaluation, Free Real Estate Reports, Find Your Dream Home, and Power of Sales lead capture forms in clear view. Select from a series of attractive button styles and guide your guests to these helpful forms quickly and effortlessly.
Property Search
When the primary reason for visiting your website is to search through listings, providing different ways to conduct the search can make the process easier. The Property Search feature offers a quick listing search from any page throughout your website and can be easily set-up to provide a localized search. Localization leads to easier navigation!
City Properties
This widget creates a pathway to listings within a specific city. With one click your guests will be able to view detached homes, semi-detached homes, townhouses, or condominiums in a selected area.
Add Videos
Using links to display your videos on other platforms is in the past and it directs people away from your website. This widget embeds YouTube videos directly onto your website pages, keeping your guests on your website while observing your video message. The length of time users spend on your website pages plays an important role in effective search engine optimization, so increase visitor retention with embedded videos!
YouTube Video Creator
Every listing on your website can be automatically converted into a virtual tour with a voiceover to provide property details. With a YouTube channel, you can enable this widget to do just that! A simple click and drag of this widget will allow your guests to select your YouTube channel and view your personal listings in video format.
Daily Email Alerts
Your guests can sign up for your free daily email alerts to gain insight on new listings that match their search criteria. Gain access to your visitors' contact information and turn them into leads.
Select A Language
If your website attracts more than just English speaking guests, this widget will help you convert your website pages into over 30 different languages. From English to Spanish, to Chinese, and more, your website will attract many different language speaking visitors.
Have Questions
It is extremely important to establish a relationship and communicate with your website visitors and potential clients. This widget can help you gain valuable information and receive comments or questions from your website guests. You can also choose to customize a question yourself to gather feedback or requests regarding particular topics from your clients.
Social Media
Connect your website users to any of your social media platforms by configuring your Social Media widget. This will allow you to link your website visitors to your social media through attractive social media icons on any web page. It will help you gain additional visibility in search engines as well as maintain an active conversation with your clients and visitors.
Facebook "Like"
This "Like" button serves as a gateway to referrals. Every time this link is clicked by visitors, it will post a comment on their wall, displaying information about your website address to encourage new visitors to visit your page.
Map Search Tool
Our dynamic map search tool allows your guests to view listings in a mapping format instead of a form search. Our large map view allows clients to narrow down their options by selecting property types and with our neighbourhood amenities plotter they can locate schools, banks, bus stops, parks, and other facilities nearby. In connection with Google you will also have the Street View feature available on every listing map.
Media Share
With just one click, your website visitors can share any page of interest or you can promote any listing with friends, family, or colleagues across more than 250 different social media platforms.
Latest Blog Posts
Blogging is a great way to establish yourself as an expert in your field and at the same time encourage engagement with your website visitors. This widget gives your website visitors a peek at your blog posts from any web page, guiding them to your complete blog forum.
Latest News
Your website is automatically updated with real estate news from various reputable sources every 4-6 hours, so why not offer a glimpse of this information on your web pages? Your News widget can be displayed on any web page to show scrolling news reports and establish your website as a great source for industry updates!
Add Text
Offer additional information about you, your listings, your brokerage, and more by adding a Text Widget to your web pages. This widget allows for additional content space that can be used to share your awards, charities you support or other details that set you apart from other agents.