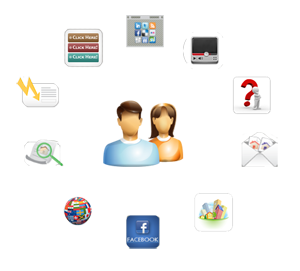 Our INCOM system is a widget-based platform. Therefore our office website themes use widget applications to add more features to the website content pages. Easily drag and drop as many of the widget icons you want and move them around the page as you please.
About Company
Your company biography is not limited to your About Us page. Showcase your company bio on any page of your website, including the home page.
Featured Listings
Draw attention to specific listings with the Featured Listings widget. This tool displays listings of your choice - personal listings, office listings, listings by MLS® ID, or listings by city/neighbourhood. Every time the page is refreshed, a new listings will appear as a featured property.
Quick Buttons
Draw attention to your lead capture forms such as Free Home Evaluation, Free Real Estate Reports, Find Your Dream Home, and Power of Sales in the form of attractive buttons on your office website pages. This goes hand-in-hand with our user-friendly interface, providing guests with a clear path to access these helpful tools.
Property Search
Offers a quick and easy way to search your office website for listings. This widget can be localized to hone in on a specific area for website guests who are interested in precise cities.
City Properties
You know what cities you specialize in, and now your website visitors will know too. From an attractive Image display, with one click your guests will be able to view detached homes, semi-detached homes, townhouses, or condominiums in a selected area. It is another piece of our user-friendly interface.
Add Videos
If you have videos for your office website, display YouTube videos directly on your website pages. Place a welcome message on your office homepage or dedicate a full content page to numerous videos. Having videos displayed directly from your website will keep your guests on your website for longer periods of time.
Daily Email Alerts
Your guests can register on your website and save searches to receive information about new listings that match their search criteria. Plus when your guests sign-up for your free daily email alerts, you gain their contact information for effective follow-ups.
Select A Language
For an office website, you do not want to limit your online marketing to one language. The Select a Language Widget uses Google Translate to convert your office website content into over 30 different languages. Expand your reach!
Have Questions
Your website visitors or prospective recruits may have questions and they can contact your office through the Have Questions form.  Use this form to gain valuable information and receive comments or questions from your guests. You can even customize the title to tailor the form for various purposes.
Facebook "Like"
The "Like" button is one way to gain referrals without doing a thing! When a website visitor clicks this "Like" widget, it will show on your their Facebook page that they have "liked" your website.
Map Search Tool
Our dynamic map search tool is another approach to search for listings. Allow your guests to view listings in a map format with Google Street View and other useful features. Guests can narrow down their options by checking off property types and with our neighbourhood amenities plotter they can locate schools, banks, bus stops, parks, and much more around the neighbourhood.
Media Share
Guests searching through listings on your office website may not be ready to make a decision alone. This share widget allows them to share pages from your website, including property detail pages, with others on their choice of 250 social media platforms.
Latest Blog Posts
Offer a little insight into your blog posts by showing your blog feed right on your home page. Whether you are interested in designing a content page as an information hub for news and blog posts or would like to add blog teasers to your home page, this tool will help you engage your audience at first sight.
Latest News
Allow your attention grabbing real estate news section generate attention from your home page. The Latest News widget will scroll through a number of news topics to show website visitors that your office website is more than just a source for listings and agents but also a solid source of real estate news and information. 
Social Media
Present your social media links on every page throughout your website in the form of attractive icons.
Add Text
Use this widget to showcase additional information about your real estate firm. This widget grants a new area for content and details about charities you support, awards you have won, and other tid bits  that would help reveal more information about your office's brand and community involvement.