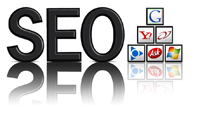 Don't Get Lost in a Sea of Search Engine Results. Use Organic SEO to Keep Your Website Afloat.
Every aspect of your website will be built in accordance with Google recommendations. Every step we follow and share in regards to increasing search engine optimization will trigger top results for your website on major search engines such as Google, Bing, Yahoo, and AOL.
SEO is one of the quickest, most inexpensive ways to build your brand online. Search engine optimization is the process of making a site and its content highly relevant for both search engines and searchers. Optimizing your website allows it to be found more often, by more people, in more searches. It keeps your business top-of-mind while increasing online credibility, industry standing and brand image. It is the key to attracting niche market visitors and ultimately raising online sales.
Our professional SEO service aims to deliver your website to top Google, Yahoo! and MSN search results. We develop a structured SEO plan for each client including a combination of On-Site and Off-Site Optimization Techniques.
On-Site Optimization Techniques:
Full Website Assessment A thorough analysis of your website content quality, quantity and optimization levels.
Keyword Research & Development An analysis of your target market, business objectives and competitors to develop a list of relevant, high volume-low competition search terms (keywords)
Monthly Keyword Reevaluation & Reporting Track keyword productivity and interchange keywords as necessary  
Meta Tag Building Research and build "search engine friendly" title tags, keywords and descriptions for each webpage
Alt Tag Building Build "search engine friendly" image tags for each graphic
Content Building & Copywriting Modify and build original website content with keyword-focused copywriting
Search Engine Rank Analysis Examine and build up website page rank (search engine status)
Off-Site Optimization Techniques:
Search Engine Submission Submit your website to quality, high page rank search engine directories for listing
Article Directory Submission Write multiple professional articles with back links to your website and submit them to high page rank online article directories for listing
Social Media Management This service includes a complete package of social media management from creating regular status updates, to generating larger social media audiences and generating original content
Our SEO strategy focuses on attracting target market consumers to your website, and converting them from website visitors to buyers. Better search engine positioning promotes business from buyers/sellers specific to your working area that requires your professional real estate services. We work extensively with businesses of varying magnitudes, from small companies to large corporations, to achieve top search engine positions and optimal ROI. We also offer competitive industry pricing to fit a multitude of budgets. Gain more marketing power today and request a quote for your real estate business.